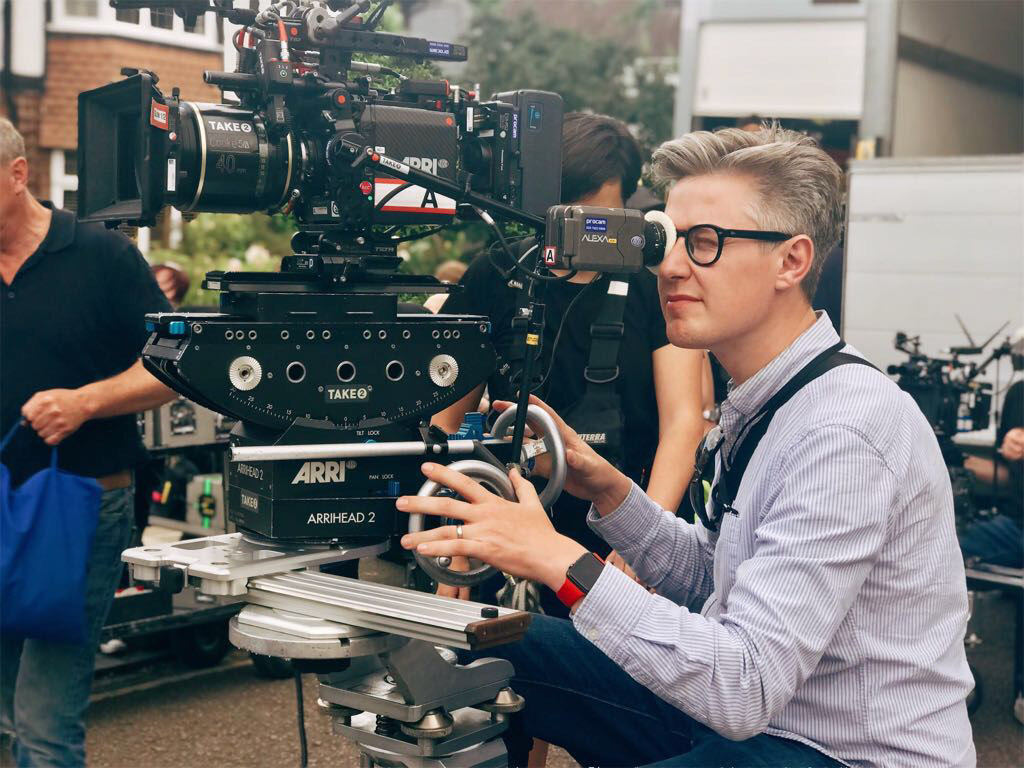 Ed Moore BSC is a sought after, award-winning British cinematographer working in features, drama and commercials.
In 2011 Ed shot his first feature TURBULENCE directed by BAFTA winner Michael B. Clifford, soon followed by his first main unit TV credit for the ten part series COMMON GROUND for Sky.
He was Broadcast Magazine's "Hot Shot" DP in 2013 along with featuring in British Cinematographer's "New Wave" the same year.
His second feature
THE LAST SHOWING
was featured in the official selection for Frightfest and released theatrically by Sony in 2014.
Ed's DP credits in TV include DOCTOR WHO (BBC),
THIS WAY UP
, (C4 / Hulu / Amazon), THE FEED (Amazon),
DARK HEART
(ITV),
SHETLAND
(BBC),
VERA
(ITV), HOLD THE SUNSET (BBC),
RED DWARF
(UKTV),
DRIFTERS
(C4), and
THE ART OF FOLEY
(C4).
His Vera episode "
Broken Promise
" won an Royal Television Society Award for Best Cinematography in 2018.
Ed has worked extensively with pretty much every filmmaking gadget going from motion control to helicopters. He is a commercial drone pilot and owns a bunch of
kit
including camera crane, stabilised head and 4K drone.
Ed was born in Truro, Cornwall. He was obsessed with lighting from an early age, designing wildly over-ambitious lighting rigs for school plays and lying about his age to blag a job as a followspot operator and lighting technician in the nearest theatre. This led to work in a film lighting rental house and the opportunity to steal as many old bits of gel and reflector board as possible to help with shooting short films on the weekends...
Whilst studying Film & Literature at the University of Warwick Ed founded an award-winning production company and shot hundreds of corporate and documentary films across the world. In 2009 he went freelance as a DP and steadicam operator, continuing to shoot commercials, shorts and second unit/operating work prior to moving into exclusively main unit cinematography.
In between projects Ed enjoys sailing, diving and aviation.
Testimonials
"... a talented, driven, gifted cinematographer, an excellent collaborator, his lighting, composition and camera motion are cinematic, visceral and dynamic. Ed consistently looks at frames and composition to serve and enhance the story." -
Colin Teague
"If I could lock Ed away in a room and only allow him to work with me, I'd love it. I feel in discovering Ed I've found some mystical creature who's able to make anything look cinematic with very little and therefore make me look good. But he's too good to lock away so I suppose I'll have to share." -
Phil Hawkins
"Ed is incredibly versatile but when we worked together recently I was impressed by how prepared he was to take risks in terms of stylised naturalism. He managed to make simple, plain spaces beautiful and atmospheric and to be bold with his framing. He's sensitive to performers needs and to story and makes creative and intelligent suggestions about how to shoot a scene as it is being blocked. He was ultimately engaged in trying to find a unique visual language to the story we were telling, pushing the boundaries of the way we could shoot a TV show. He has a clear a confident sense of his own role but collaborates well with other departments. Above all, he has an innately cinematic sense of style." -
Alex Winckler
 "... he was a brilliant collaborator. He really was, to a fault, charming, unflappable, innately talented and supremely savvy about all aspects of tech. We had cinematic ambitions for this high concept sci-fi series (err, which TV drama doesn't) but Ed really understands how to tell a story visually, viscerally and with scale. He produced consistently beautiful work on a punishing schedule, excelling with the many complex action and stunt sequences. His lighting style is inherently cinematic and leans towards a combination of through windows and in-camera practical sources which looked beautiful and natural and also kept the floor clear for more fluid blocking. He also used his gimbal system to great effect which proved an incredibly versatile tool, leaping from a steadicam-style to cranes, dollies and even a cable-cam rig. All operated with great delicacy, intuition and precision by Ed." -
Misha Manson-Smith
"Ed is... keen to use the most cinematic shots, to find unusual framing devices and use lots of camera movement. And finally of course his lighting is always beautiful, not only that but he's also fast" -
Emma Sullivan
[Full references available on request]